Fab Café, Delhi
It's so easy to hate on healthy food, particularly now, when the "clean eating" movement is suddenly so prevalent. As a child of the eighties, my own childhood was almost entirely devoid of packaged food and sugar-laden processed junk. The truth is, you couldn't get any of that shit here, so a McDonalds burger was a treat (Fact. My sister and I made our dad bring us back burgers when he went to the UK). Of course then everything changed, and McDonalds and all that other crap was everywhere.
Clean eating–whether or not you call it that–is nothing more than a fed-up response to an utterly shitty food production and food supply chain. Walk into any food store and you will be confronted with shelves piled high with salty snacks fried in rancid oils, sugary breads and cereals, ice creams that are more emulsifier and plastic than milk, and cheap drinks. People are tired of eating shit, and they are tired of feeling like shit, and they're trying to do something about it.
It's super easy to hate on people making these choices, but really I think clean eating's just been a victim of its own runaway success. Champion of delicious fatty foods Nigella Lawson (love her to death) said, when asked her views on clean eating that 'food is not dirty', and she's right. But perhaps if we stopped badging it clean, or healthy, or better-than something else it'd be easier to consider that the entire movement is, at its core, nothing more than a collective desire to eat real food. Not food in a packet. Not food that will withstand a plague. Just food. At its simplest, it is about eating vegetables that haven't been sprayed with glyphosate, and eating chicken that isn't riddled with antibiotics. It is about eating things that are home-cooked, with no funny little ingredients with unpronounceable names.
There is, at least for me, another dimension to it. More than a fear of the diseases eating the processed stuff will no doubt give me, and more than a fear of what all that bullshit is doing to my gut (both reasonable though, I think most can agree) is a desire for pleasure. Food is a communal experience. It is sensory, and at a time when everything else is progressively more mediated and digitized, it engages all five senses in a way that not much else does. I've been making time for meals lately, putting time in the diary to meet friends to eat. Not for a drink, although there are always cocktails, but allotting enough time for a couple of courses to unfold. I struggle with places to go to though, when looking for a chill vibe and a compelling menu, particularly here in Delhi.
Enter Fab Café. Guys, delicious. I have absolutely no clue when it opened its doors, but it hasn't been too long, because in the last couple of months I've had innumerable people recommend it and not one had a bad word to say about it. It took me forever to actually make my way there, but by the time I did I felt like I was already familiar with its entire menu because I'd seen so much of it on Instagram. Fab Café is a cool little nest, perched atop the Fab India building in Vasant Kunj, a light, bright café that looks great, all cool tiled floors and soft furnishings (all from Fab India, natch) with a genuinely relaxed vibe. It's sort of an edible version of what the brand stands for, and they're extending the you-are-what-you-eat aphorism to the entire menu which encapsulates a sustainably-minded, globally-inspired, locally-sourced sort of ethos. There's kombucha (the lime one was my favourite) and cold-pressed juice. There's tacos made form jackfruit flour with refried rajma and green pea guacamole as well as dal sprout-filled golgappas with three types of paani. That same jackfruit flour is used elsewhere, but to radically different effect, as the casing for a spinach, chive, and water chestnut momo which was great. These also came with an incredible, fiery green chilli chutney that I am nuts about. So far, so delicious. The dal samosa was a little bit dry; not bad, but not particularly memorable, as was the beetroot and lotus stem tikki chaat, but where those two fell short, the mini mutton galouti kababs on buckwheat blinis atoned and then some. The galouti was buttery ad tender and the buckwheat blinis were so lovely I did not miss an ulta-tawa parantha at all. Their salads are generously portioned and easily serve two, which you'd do well to remember, because you definitely won't have room for mains. Obviously we're planning a repeat visit, because there is a pumpkin and coconut stew that has my name written all over it, but that I just could not manage in this meal.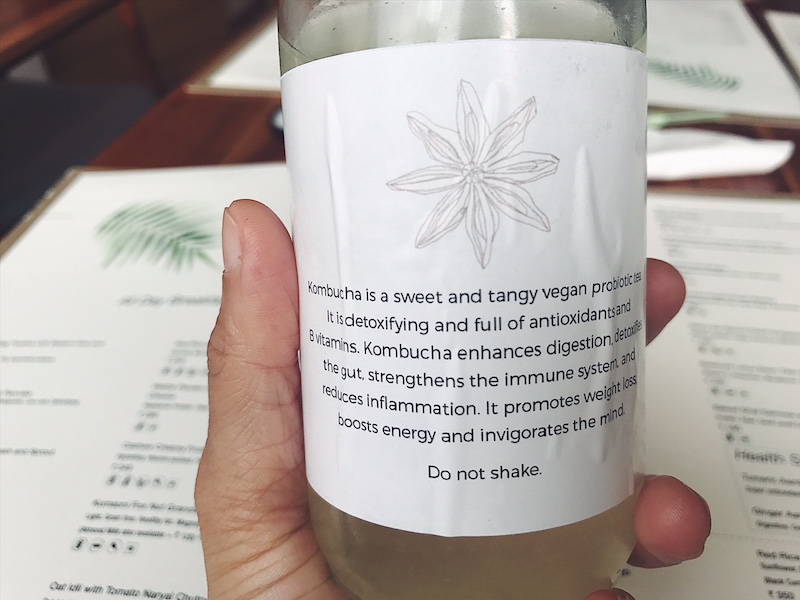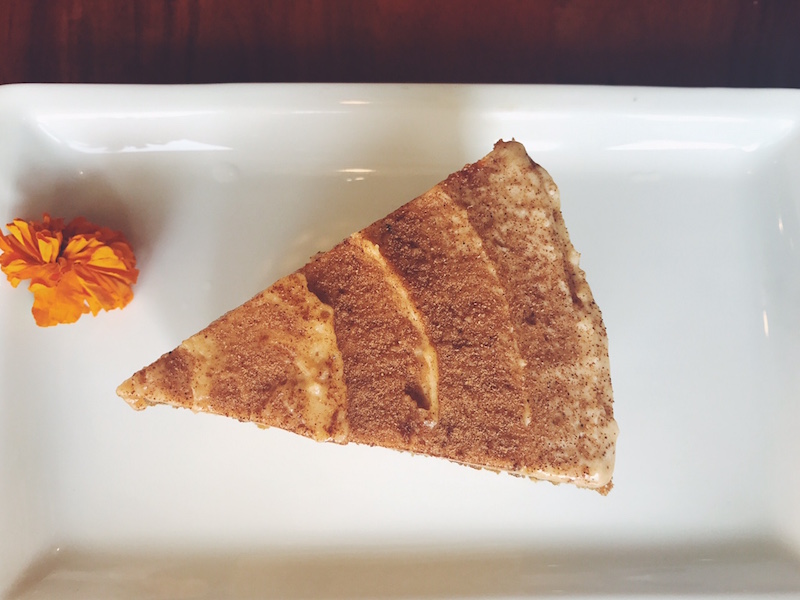 There is no booze and dessert was iffy, although in Fab Café's defence, we chose stupidly. Clearly the mango bhapa doi crème brulee or the red rice payasam is the way to go, but we chose the grain-free coconut chocolate cake and the carrot cake because I freaking love cake and am a chooser of boring desserts. Were they bad? Not at all, but both were definitely oversweet. Although, each slice is humongous, which I give them plus two hundred points for. There is nothing I hate more than slivers of cake pretending to be slabs.
Is it healthy? Well, yes, it can be, but don't go in expecting dishes that've substituted edification and virtue for flavour. Everything we ate was delicious, and would hold its ground on much less-wholesome menus. What's lovely to see is a place that's championing wholesome over healthy, and that's a movement I am thoroughly on-board with.
Find it in the Fab India building, local shopping centre, Nelson Mandela Marg, Vasant Kunj, Delhi. Phone: 011-4604-1700.
Vandana Verma